Thursday, March 16th, 2006
---
8:18 pm
I LOVE NEW ORLEANS.

I want to move there. no joke.

Beignets. Po Boys. Bourbon Street. Cafe Du Monde. French Quarter. Port Of Call. Geoffrey. Frances. Ashleigh. Benjy Davis Project. 80 degree weather in March. Mardi Gras. Jazzfest. Crawfish...

It's a beautiful city, even with all the fema roofs and fema trailers.

SAVE NOLA.



[as a side note, I know I'm not from New Orleans. Sometimes I feel like i'm a poser with all of my rebuild new orleans stuff, but that's why i didn't buy a tee-shirt or a sign supporting it. I was disgusted by the droves of people taking pictures at all of the destruction. New Orleans was seen as this thing to take pictures of. not to live in. not to support. not to restructure. not to rebuild. WHATEVER. I've seen this city at its worst. I hope to one day see it at its best. I want to live in it, in spite of the hurricanes. I want nola to become my home.]

-L
Tuesday, December 13th, 2005
---
6:34 pm
and just like that... finals are over. I'm headed back to k town on thursday, but for right now, i'm bummin' around vandy and eating all the sushi my stomach can take. I've decided that I like two guys. They are friends. Strange sensation. I want kyle, but I can't have him for a while because apparently he can't have a relationship right now...and you know, month long breaks arent really a good idea at the beginning of a relationship. BLARGNESS. I'm about to kill my roommate. KILL.
Tuesday, December 6th, 2005
---
9:42 pm
List one reason why this journal should not be deleted. Otherwise tomorrow at 12:00, I will delete this wonderful piece of crap journal.
Thursday, September 8th, 2005
---
9:42 am
i just finished off the last of the peanut butter. One jar. Less than three weeks at college. GREAT!
9:40 am
For all you music people--so a search on google for audioscrobbler. it is amazing. DO AS YOU'RE TOLD.
Monday, July 25th, 2005
---
8:44 pm
- satisfaction
i love life. i love sex. i love drinking. i love showering...swimming...painting my toenails...washing my hair...reading harry potter...talking to my sister...shaving my legs...

and this is all i want from life.

I have no desire to BECOME anything. I am what i need to be and I am happy with my reality.




So...what are YOU going to be when you grow up? I will be happy without the need to acheive anything.
Tuesday, April 12th, 2005
---
5:33 pm
Sunday, January 30th, 2005
---
11:20 am
In light of recent posts and resulting comments about said posts from unwanted characters....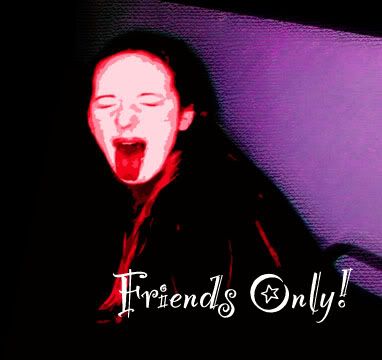 Comment to be added...